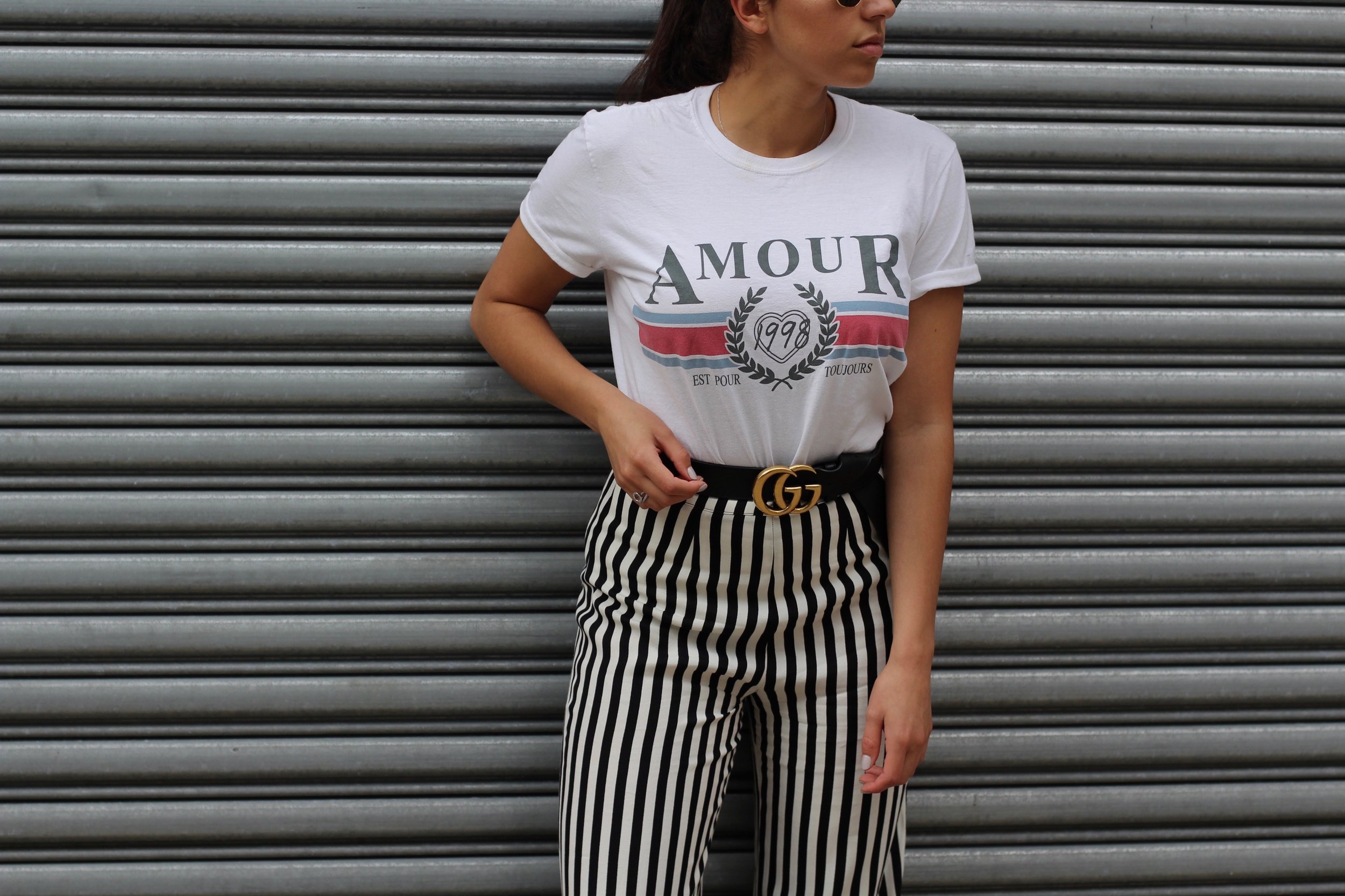 Never enough stripes for day 5 of NYFW
The Look
If you want to step out of your comfort one, put on a pair of palazzo pants. The bold print and sheer length of these bottoms are definitely attention grabbers! Although it was something different for me, the shows that I was going to on this day seemed to warrant somewhat "out there" looks. Both Hakan Akkaya and Lan Yu were a little out there as far as design, but I seemed to be right on the mark with the stripes as you'll see in the show photos below!

Whether you get a pair of striped, bright, printed, neutral, or any other type of style, you need a pair of palazzo pants. Depending on what kind of shoes you want to wear with them, you can alter the length. Mine were definitely on the longer side an needed heels, but a pair of sneakers would look pretty cool as well. Bringing this style into your everyday look is simple! Select a neutral color or classic pinstripe version to amp up your fall wardrobe. I love the ones that they have on missguided.com! This style is super slimming and elongating. Try them out!
I bought this top from Topshop on a whim thinking I would get some use out of it. It's a t-shirt, right?! Well, this top has been my go-to since buying it! I love the pop of red and blue against the white and black pants. The "Amour" text gives it that vintage vibe, which works so well with the Gucci belt. The top is soft and will get much more layering use this season!
I felt like my waist was getting a little lost since the pants weren't super tight up top. I fixed this by adding the belt and cinching it in. This immediately gave the look more shape and added that luxe detail. Overall, this look was easy and breezy, which is a rarity when putting together NYFW looks!
Hakan Akkaya
This show was full of interesting shapes, lines materials and structures. I loved how this felt more like art than clothing. Parts were very industrial while others were very flowy and had movement.
I was very excited to see that I was on point with the stripes! I felt like I was wearing a piece off of the runway. A large amount of the pieces, specifically the menswear was made of a black and white striped material.
Everything about this show felt so calculated in a good way, if that makes sense. Everything from the models to the music beat meshed so perfectly. I loved how they combined both women's and menswear into one show. It added variation and kept things interesting.
All I can do now is praise from afar and hope that the designer shows again next season!