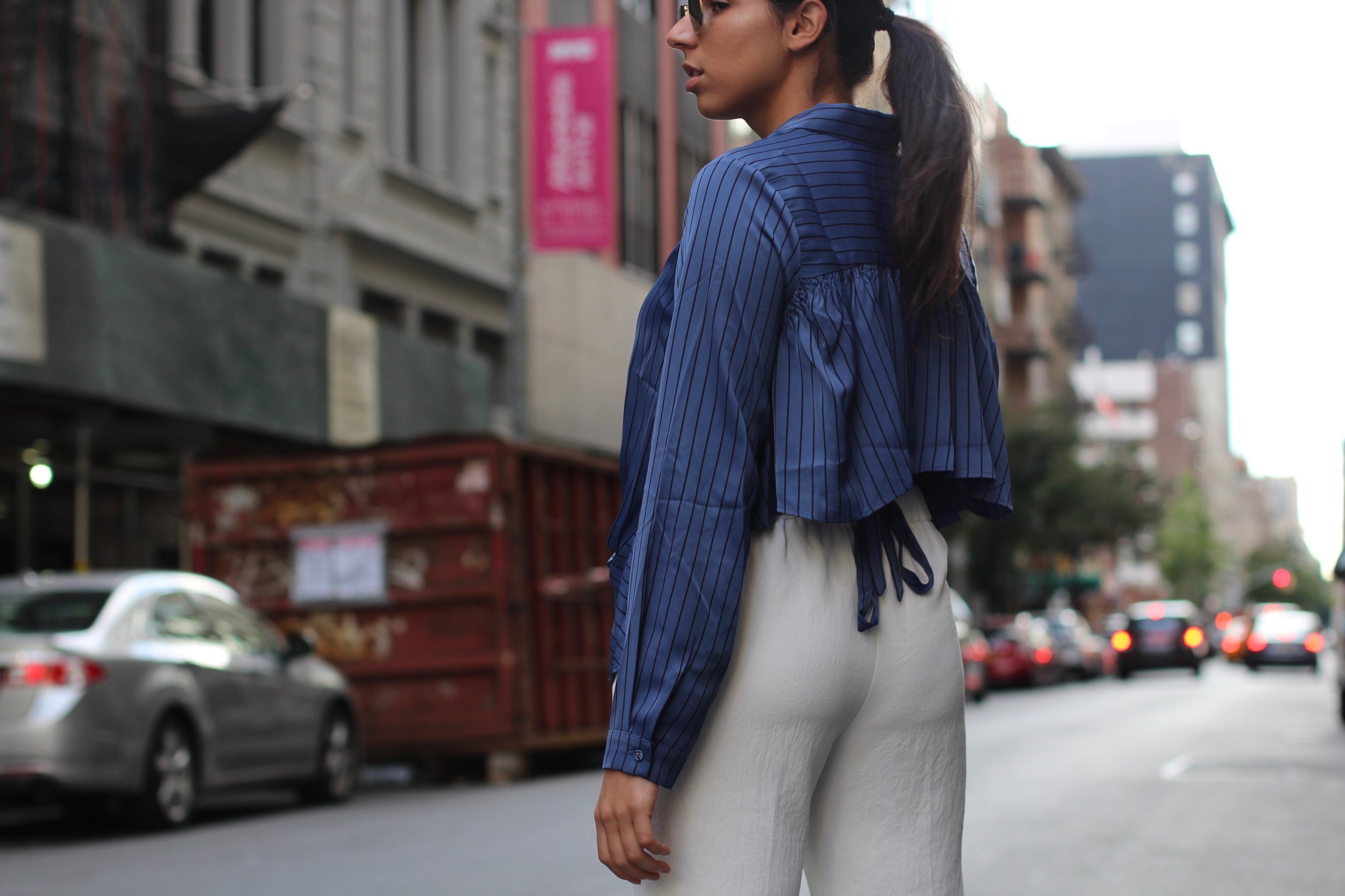 Breaking out the bold colors dewy silks for NYFW Day 3
The Look
I'm trying something new…color! You may have noticed with the olive colors from my last NYFW post, but I decided to go even bolder for my second look. Behold, Dolce Vita Saffron Yellow Silk heels. I was skeptical at first, but when I got them in the mail, I was so happy I took the color risk! The golden undertones and sheen of the silk add so much vibrancy to the look. They are only complementing the blue and white colors I already wear. Notice the detail in the fringes and how the block of the heel get s wider towards the floor. I seriously have a crush on my own shoes.

I love a classic silhouette, but there's no shame in revamping the classics. Take this button down for instance: business in the front, party in the back! In the front it's your standard button down and great as is. But the back is where this blouse comes alive. The raised hanging ruffle panel gives this top amazing movement and is interesting to look at. I wanted to do something a little different for NYFW! It ties underneath so it's not falling all over the place. Like I mentioned in my NYFW trend predictions, stripes were everywhere…including on my top! Stripes made a statement in a huge way this season, so I was happy to include them in my looks. Similar to my heels, this L'Academie blouse had a silky sheen giving it that luxurious look.
You may recognize these pants. That's because I wore the same ones in olive green in my last post! Aritzia has been on the money with minimal, tailored pieces. I'm obsessed with that entire company, especially their latest collection. You'll definitely be seeing more looks featuring their products! I honestly would have gotten these trousers in more colors if they weren't semi-expensive. Coming in at $145, they are a little on the high side for everyday pants, but definitely worth it. You get so much use out of pants like these!
I accidentally posted one of my day 3 shows in my day 2 post, so you can view that right here. I'd like to take this opportunity to ask what type of content you'd like to see more of! While I love sharing looks and details about events like NYFW, it's always helpful to know what you as viewers find most interesting to read about. I'd love to incorporate some of your ideas and interests into my coverage. Let me know your thoughts in the comments or send me a message on Instagram (@claudiadicapua).
Here's an update on what's coming next: more video! I did a combination video of all of my NYFW looks so you can see them moving and get a look into what fashion shows look like. That will be up soon both on the blog and on my YouTube channel (You can check it out here)!